Ontario Stepping Up Measures to Limit the Spread of COVID-19 on Construction Sites
Monte McNaughton, Minister of Labour, Training and Skills Development, issued the following statement today regarding health and safety on construction sites:
"The health and safety of construction workers is a top priority for our government. With the COVID-19 situation changing day by day, we are working to ensure that workers have the tools they need to help keep job sites safe. We must do everything possible to fight the spread of this disease.
Read more about what Ontario is doing to limit the spread of COVID-19 at construction sites here.
OSSGA Safety First Alerts
OSSGA has put together a collection Safety First Alerts for members to use on their social media, website and communication channels, to help employees engage in safe activities at work, in their offices, at their sites, and with their equipment.
A total of 15 Safety First Alerts are available for download here, or by clicking the sample image below. For questions or help with the messaging please contact Sharon Armstrong or Richard Hillier.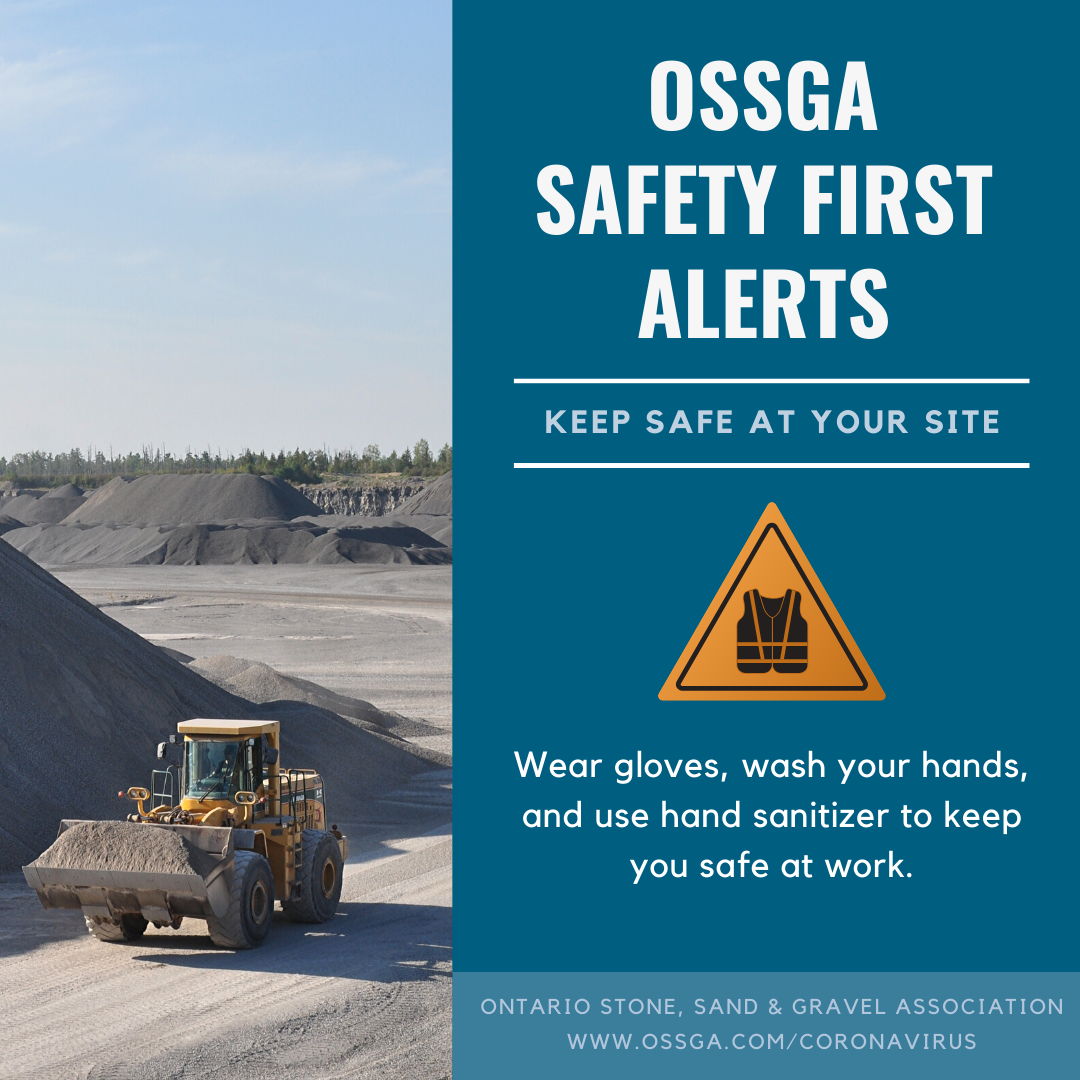 Please download and share with your vendors and drivers.
COVID-19 Collection of Industry Operational Practices
This file contains a list of industry practices collected from both OSSGA members as well as members from NSSGA in the States. If you would like to add to this list, please send an email to Sharon Armstrong or Richard Hillier.
We will continue to post suggestions as they become available.
Canada's COVID-19 Economic Response Plan
OSSGA's Government Relations consultant Kelly Mitchell provides an indepth analysis of the government's action plan and how it affects industries.
More best practices including a great section on drivers.
Business Continuity Resources
In addition to the list of Operational Industry Practices above, below are documents and resources from members and outside agencies that may be helpful.
Please scroll down as new resources are being added daily.
Keeping vendors and employees safe (below)
Communicating with the public (below)
Strategies to avoid contact during operations/shipping (below)
Resources for Business Continuity Plans - including resources from Ontario Chamber of Commerce and more
Sample Memo to Vendors: Strategy to keep employees and vendors safe
Courtesy of Nelson Aggregates...
Effective Immediately
Nelson/Waynco is advising all vendors to call ahead prior to making deliveries to Nelson/Waynco sites. Vendors selling production products will not be able to gain access to our sites, and we ask that you address these conversations by telephone or email only.
Deliveries of pre-approved essential products are to be dropped off outside of Nelson/Waynco buildings. Access inside will not be permitted.
Access to sites to make any needed repairs to Nelson/Waynco equipment must be pre-approved and authorized by the site operation manager prior to entering any Nelson/Waynco site. Scheduled repairs and/or maintenance to equipment, Nelson/Waynco asks that social distancing is maintained (6 ft) while working on site as well as following good hygiene practices; wearing gloves, frequent hand-washing, and regular use of hand sanitizer.
Together we can positively contribute to maintaining a safe and healthy workplace by doing our part by prevent the spread of this wretched virus.
Nelson/Waynco Management
Communication with the public: Strategy to let customers know you are open for business
Tomlinson has implemented numerous safe work practices to ensure that we are abiding with measures to 'flatten' the curve, and are continuing to operate in our lines of business including aggregate, ready mix, environmental services, and construction. Here is a link to the information we are providing to the public and our customers to ensure that we are putting public and employee health foremost, while operations continue. https://tomlinsongroup.com/
We have instituted a company task force to stay up to date on developments, act on needed changes, and enhance the flow of communication both up and down.
The message back to government should be that the flow of goods, supply chain and economy needs to keep moving and that industry is putting safety measures in place to facilitate. There will undoubtedly be financial impacts as work slows down, we will be looking to the government to provide leadership and a calming influence to power through the current challenges and through to the other side.
Customer Communications: Strategies to avoid contact
Courtesy of Fowler Construction:
Valued Customers:

Fowler Construction is closely monitoring Covid-19 and adjusting its business operations. We are making several changes at our locations in order to ensure the safety of our employees, customers, suppliers, families & local communities.
Effective immediately the following changes are occurring:
Most of our team is working remotely. This change will not limit our ability to serve you. Contact information for our sales and customer service staff is listed below. We will best serve you by phone, text or email during this time.
Our offices and scale houses are closed to visitors. Scale house operators can be spoken to by phone or at the ticket window.
We are limiting in-person meetings and utilizing video conferencing wherever possible. This includes limiting customer meetings. If an in-person customer meeting is absolutely necessary - we will be not be greeting with a handshake, will be maintaining a minimum 1-metre distance at all times and attempt to hold the meeting outside or in an open space.
We are dramatically increasing the frequency of sanitization in our offices, scale houses, shop, vehicles and heavy equipment.
Our staff are limiting, or eliminating where possible, the sharing of equipment between multiple operators during shifts.
Scale operators are no longer be obtaining a signature on tickets at the scale window. Our scale operator will ask for their name and sign for the driver or customer. The scale operator will then place their initial beside the name and provide the tickets to the driver or customer. Our delivery drivers will also not be asking customers to sign the ticket. We understand that this is a significant shift from our standard process. We are willing to provide our customers with additional reports as requested. Any customers that do not agree with this change of process is asked to contact us immediately in order to discuss further.
Cash is not accepted at any of our locations. In addition, we are not accepting debit cards at all of our locations. We will continue to accept Visa and Mastercard for retail transactions, however the cards will be entered manually by our staff directly into the Point of Sale machine. Our staff are not directly handling credit cards. This will drastically limit the number of people handling these machines.
Our scales will be closed for shipping from 12:00pm to 12:30pm daily in order to provide our staff with a lunch break and an opportunity to do additional workspace and/or equipment sanitization.
We thank-you for your understanding through these challenging times. When our business is in a position to return some, or all, of these changes back to normal - we will let you know. In the meantime, should you have any questions please feel free to contact any of our sales and customer service staff below.
Risk Assessment shared by Ireland