February 24, 2021 - ONLINE
OSSGA is pleased to announce an all-new online format for the 2021 OPHS Seminar. In the face of challenging times we believe it is more important than ever to talk about operational changes and the health and safety needs of the industry. Therefore, we welcome you to join your fellow industry members to engage in our online program to address how we can work together to keep sites operating and keep health and safety practices at the forefront. This is not your run of the mill zoom session! This is a high-end virtual platform allowing us to interact in new ways.
Watch our video for a sneak peek!
While the online format is not the same as in-person, we are still bringing you incredible speakers, hot topics and key information you need!
OSSGA ONLINE FORMAT
Attendees will receive a link with a unique password a week prior to the seminar to give you time to become familiar with our platform. You can setup your profile which includes your name, company, email, social media links and picture. While there, you can explore the many topics, speakers, and sponsors we have lined up for you.
On event day, our seminar host and keynote speaker Michael Landsberg will "show" you around the site where you will have access to all the live and on-demand presentations. You can chat with other attendees, ask questions of the speakers, participate in polling and much more.
GET CONNECTED AND WIN BIG!
There are two special round table sessions on the agenda. During those times, you will be directed to join a sponsor of your choice to discuss industry hot topics.
When you attend a round table, you will be automatically entered into a draw for a $1,000 Visa Gift Card. If you attend both round table sessions, you will get two entries into the draw increasing your chance of winning.
KEYNOTE SPEAKER – MICHAEL LANDSBERG
#SickNotWeak: Believe It.
Michael Landsberg has been speaking about depression for more than ten years. That means he has been changing people's views on mental illness for over a decade. No one speaks more candidly, openly and passionately on this topic. When he speaks, people listen and that is because Michael speaks, not from textbooks as a professional would, but from the book of life- his life. Those who are going through similar battles will enjoy the rare feeling of being understood. Those that care about someone with a mental health challenge (almost everyone) will get a new understanding of what the person they care about is feeling.
Michael will start with the words Sick Not Weak. Everything that follows will explain and justify those three words. Mental illnesses, like depression, are sicknesses not weaknesses. If you don't believe that now- you likely will after an hour with Michael.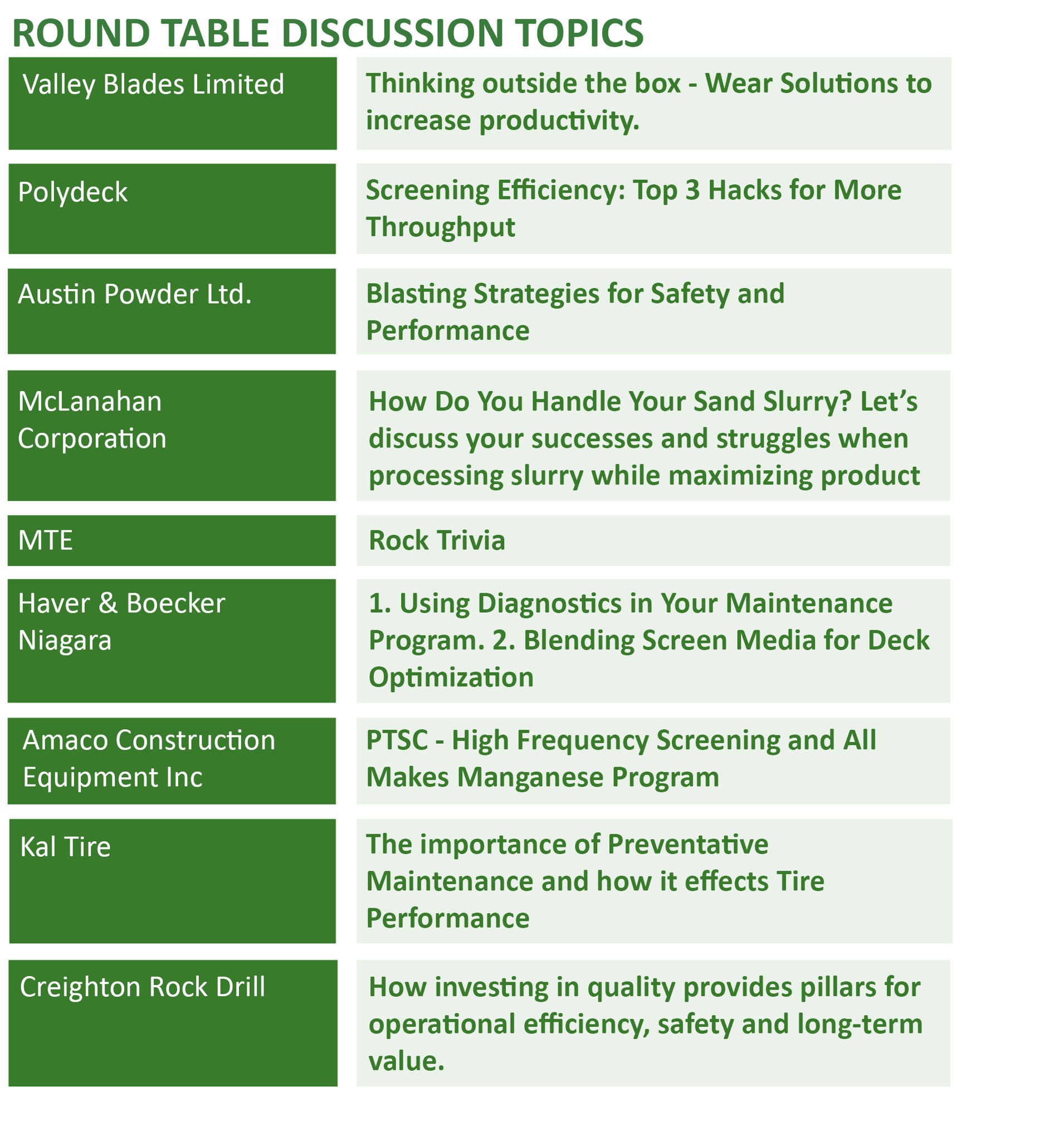 ON-DEMAND EXTRA TOPICS
All Registrants will have access to these EXTRA – On-Demand Topics
While the conference may only be eight hours, we want to bring you even more incredible content in a new format. In addition to the above live presentations, there will be an on-demand section that allows you at your leisure to view the below topics:
TOARC and MAAP Update
Danielle Solondz, The Ontario Aggregate Resources Corporation
Environmental DNA To the Rescue: Innovating Species at Risk Surveys
Dr. Scott Tarof, Azimuth Environmental Consulting, Inc.
A Review of Current Thinking and Best Practices for Operating Buildings During and After a Pandemic
Jason McGonigle, Golder Associates Ltd.
Truck Axle Weights: Exploring a Digital Truck Database for Ontario
Moreen Miller, Brandy Creek Consulting Ltd.
Rocks 'N Our World
Sharon Armstrong, OSSGA
SPONSORSHIP: NEW ONLINE FORMAT = NEW OPPORTUNITIES
Sponsorship is taking a whole new direction as we convert from in-person to online. OSSGA is pleased to provide you an opportunity to continue to showcase your company and brand to members in a new way.
*Logo Rountable Discussions refers to an area designated for networking on the platform which will include your logo on a table with 15 open seats. Seminar attendees will be invited to join the roundtables which you would host - there are two opportunties which last 20 minutes each. OSSGA will work with you to develop a topic that you feel would be of interest to attendees to draw them in. OSSGA will also be giving away $1000 Visa Gift Card as an incentive to participate
Having a hard time visualizing how it is going to work? Contact our Director of Training and Development Julie Harrington at jharrington@ossga.com for a tour of the platform. All sponsorship must be finalized by February 1 to ensure you receive all the benefits associated with your sponsorship.
REGISTRATION INFORMATION
How to register as a delegate or sponsor: Click "Register Now" below to book your registration type and sponsorship opportunities. Registrations will be accepted until February 23, 2021. If you have any questions, please do not hesitate to contact our Director of Training and Development, Julie Harrington, at jharrington@ossga.com or (905) 507-0711 ext 208.
Registrations cannot be shared. Each booking will receive a unique password one week prior to the seminar which allows access to only one user.
REGISTRATION OPTIONS
DELEGATE FULL PACKAGE: EARLY BIRD RATE ENDS FEBRUARY 22, 2021
$229 MEMBER EARLY BIRD or $299 thereafter
$229 GOVERNMENT EARLY BIRD or $299 thereafter
$329 NON-MEMBER EARLY BIRD or $399 thereafter
PAYMENT
Registration cannot be processed without appropriate payment. When booking online you can pay by credit card (Visa or Mastercard) or, if you are an OSSGA member, you can request to be invoiced.
CANCELLATION POLICY
Cancellations must be requested in writing via email, fax or Canada Post to the Ontario Stone, Sand & Gravel Association. Cancellations received by January 22, 2021, will receive a full refund minus a $100 administrative fee. There will be absolutely no refunds after January 22, 2021. If an attendee is unable to attend, payment is still due, but a substitution can be made up to 10 days prior, not after. Credit will not be given for late arrival or unattended events. Registration is for one individual and cannot